Bucks Creek loop
SHORT HIKE
4.1 miles 250' elevation gain season: Jun-Oct (but not if snow below 5500')
---
Maps (May 2020 edition)

Avenza version



Adobe PDF version
---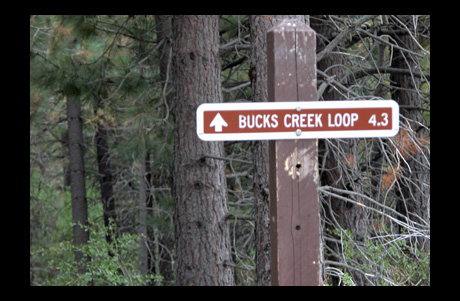 spur trail at Bucks Summit
Park at the small pullout just on the north side of the bridge over Bucks Creek for Bucks Lake Road. Walk across the road bridge and you will find the trail headed upstream on the other side.
Bucks Creek loop is especially for mountain bicycling, particularly since the Pacific Crest Trail and Bucks Lake Wilderness are closed to bicycles. Hiking and horses are also allowed on Bucks Creek loop.
Follow the trail very gently uphill through forest with surprisingly lush undergrowth and some open areas for 2.5 miles until you reach a dirt road. The trail continues on the other side up to Bucks Summit, but our route heads north on the dirt road to paved Bucks Lake Road.
Go left down Bucks Lake Road for a quarter mile, and you will find the resumption of the trail on your left.
The trail passes by many flowers, especially in July or August, and at mile 4 reaches Whitehorse Campground. Follow the campground road to its western terminus, where your trail resumes. The trail follows the creek, and shortly arrives back at the Bucks Creek Trailhead.