---


maps & website by Michael Jones
---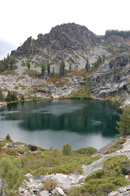 Gold Lake
---
affiliated with
Sacramento Valley Hiking Conference
Generally there is snow from November 1 through May or June.
October is often perfect, but check the forecast for storms.
Mosquitos are usually worst in July, while flowers are best in July and August.
Bears are plentiful, but usually no problem since they are hunted here.
Cattle are frequent on Bucks Big Loop and less so on Right Hand Branch hike.
mi-eq = mile-eqivilent = miles + elevation gain/500'