Right Hand Branch loop
CHALLENGING DAYHIKE or OVERNIGHT
14.6 miles 2150' elevation gain season: Jul-Oct (but not if snow below 7000')
---
Maps (May 2020 edition)

Avenza version



Adobe PDF version
---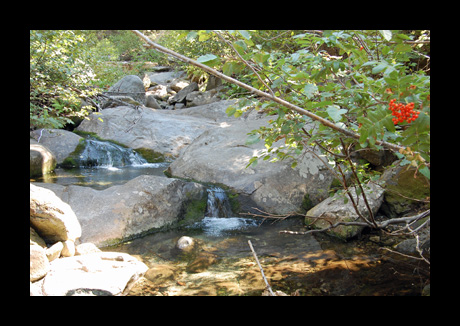 Right Hand Branch Mill Creek
This is a really long dayhike, so don't try it unless you are in top shape.
Start at Bucks Creek Trailhead and head west above the lakeshore for two miles. Then the trail heads over a small hill and back down to the lake at Right Hand Branch Mill Creek. Just past the crossing is a trail junction.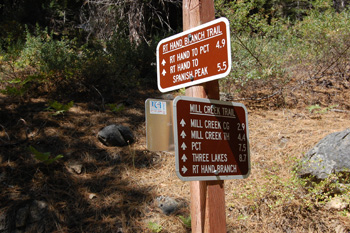 Lakeshore and Right Hand Branch trail junction
Head right, and thus begins a prolonged relatively gentle climb the length of Right Hand Branch Mill Creek. It is mostly forested with some small meadows and open places. Cattle graze, so chlorinate or filter the water before drinking. Be observant of the switchbacks, as they are your primary landmark to keep track of your location on the map.
At Mile 7.5 you cross the crest of the Sierra Nevada and descend slightly to a junction with the Pacific Crest Trail. There is a nice place to camp to the northeast of here, but no water; or you can go northwest to Pebble Spring, which has a strong, clear flow, if you are good with maps and cross-country travel.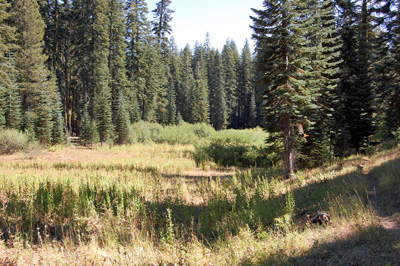 meadow in Oct (flowers in July-Aug)
From the PCT junction head east for half a mile to the Spanish Peak Trail. If you are tired, you may be tempted to skip this side trip, but if so you will miss perhaps the best view in the Wilderness.



Pilot Pk and Mt Fillmore from Bucks Spring area
From Spanish Peak it is almost all downhill back to the Bucks Creek Trailhead. Follow the PCT south across a red fir covered slope, and then beside a small meadow. From here the trail switchbacks down to Bucks Summit, along the way crossing the cool, fresh, generally cow-free water of the infant Bucks Creek.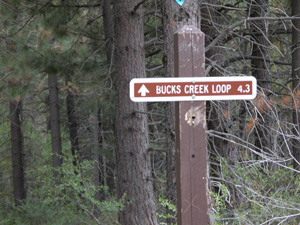 At Bucks Summit the PCT continues across the road, but don't go there unless you want a really long hike. Instead follow the highway another couple hundred feet to the west to the Bucks Creek loop trail, and follow it gently down through pretty, lush country back to where you started your hike.