Spanish Peak from Bucks Summit up-and-back
MODERATE DAYHIKE
8.9 miles 1500' elevation gain season: Jul-Oct (but not if snow below 7000')
---
Maps (May 2020 edition)

Avenza version


Adobe PDF version
---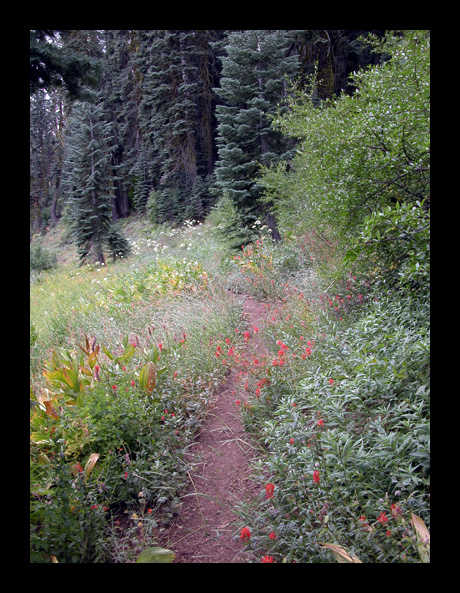 Paintbrush and Corn lily along the trail
The trail starts at the west end of a large parking lot on Bucks Summit (it is the end of the winter-plowed road, and is used by snowmobilers). The trail makes long switchbacks up the brush- and fir-covered slope. The trail is along an old dirt roadbed that once serviced Spanish Peak fire lookout; the lookout and road were abandoned sometime before the late 1970s.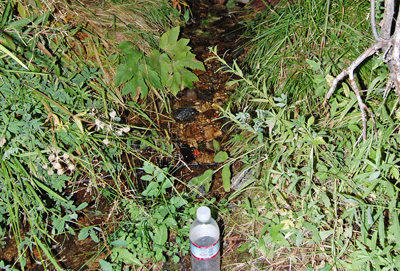 baby Bucks Creek is reliable even in drought years
The trail crosses infant Bucks Creek twice. There is always some risk to drinking surface water in the backcountry, but we drink this water directly from the creek. However, much of Bucks Lake Wilderness is grazed by cattle, and we would treat or filter the water before drinking in most other places. A little higher, the trail passes slightly above Bucks Spring, but it is hard to find below the trail in light brush.
Finally the trail reaches a flatter area, where large red firs surround a small meadow. The trail leaves the old roadbed, and now follows a route built specifically for the Pacific Crest Trail. Just before Mile 4, Spanish Peak Spring originates in a clump of Mountain Alder 100 yards below the trail. A few cows frequent this area in later summer and fall, and may contaminate the spring water.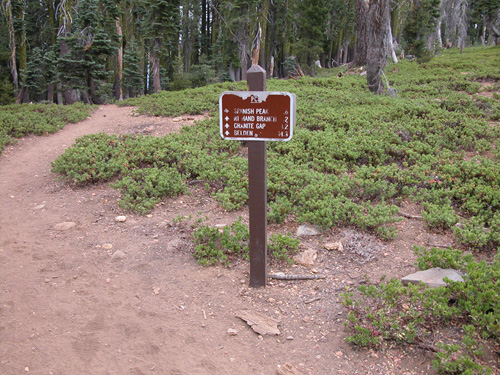 At mile 4.3 is a signed junction for the Spanish Peak Trail. You are back on the old roadbed, and follow it on a leisurely stroll to the summit. The rock drops off dramatically on the north and east sides, and there is a fine view north to Lassen Peak, and south to Pilot Peak and beyond.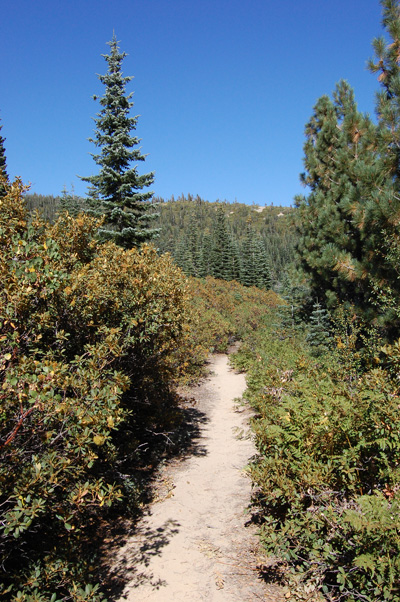 Chinquapin (the shrubs) along the switchbacks
Retrace your steps. If you have had an enjoyable time, you may linger at the junction with the Pacific Crest Trail northbound, and consider what hardships and wonders lie to the north. But this hike heads south, back to Bucks Summit parking area.